Technical Specifications
SMARWI is made of color and temperature stable plastics. Same material as in high quality plastic windows is used for SMARWI cover parts.
The length of the comb allows full opening of all standard windows in ventilation mode.
Dimensions and technical specifications:

Parametr

Specifications

Additional Info

Power Adapter

Input: AC 50Hz/230V
Output: DC 12V/1,5-2A

Adapter type C, cable length 1.5m,

Accessory extension cable of 1.8m, 3m and 5m is available in eshop

Speed of movement

Optional: approx 3-20 seconds

Approximate time needed to close / open the window

Range of operating temperatures

-5 to + 40 Celsia

Minimal and maximal operating temperatures

Communication standard

Wi-Fi

802.11 b/g/n
Important to know before purchase:
Before purchasing SMARWI, please ensure that the following pre-conditions are met & SMARWI is suitable for your window:
1) My window has a Tilt-Turn function and meets the minimum dimensions
SMARWI is designed to control windows with ventilation function. In order to install and operate it properly, it is important that your window meets several minimum dimension requirements.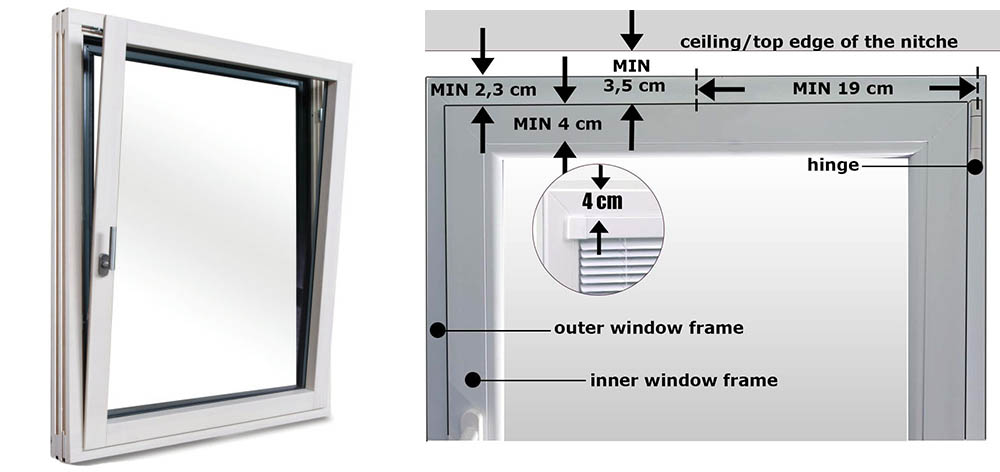 Please note:
SMARWI can be installed on the Tilt-Turn windows with both right and left side openings while respecting the minimum dimensions. A safety box can also be placed on both sides of the window.
If you can not keep a minimum distance of 19cm from the window hinge, SMARWI can still be installed, but you might not be able to reach full manual side opening.
2) Choose the correct length of the cable (SMARWI to Safety Box cable)
Please select the way you want to place a safety box. It can be placed on the vertical line of the frame or on the bottom horizontal, see options in the picture below.
Then measure your window and choose propper cable lenght based on your window size & safety box placement. SMARWI is sold with 3 different cable lengths: 1m, 1.6m, 2.1ma 2.7m. The universal cable for most windows is 2.1m.
Please note: For left sided window, you can guide the cable and place the box in exactly the same way as the right sided window while using brackets in SMARWI holder.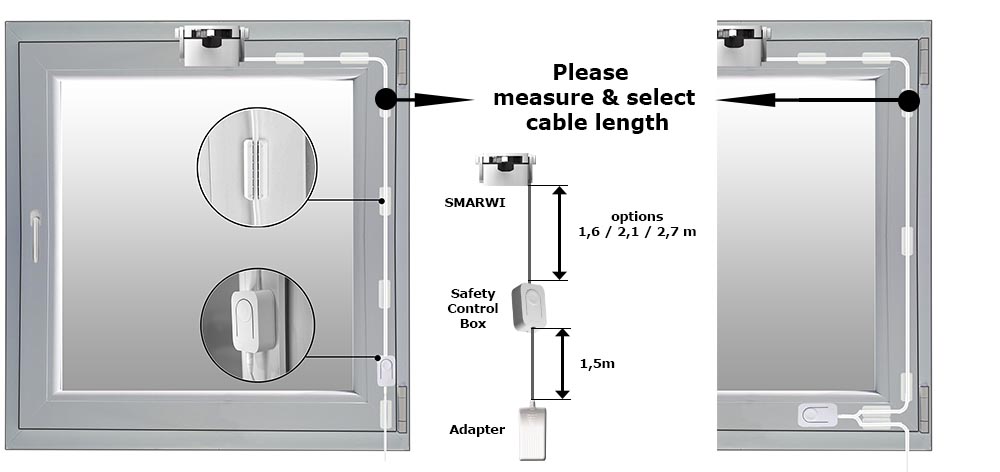 3) Verify your power options - location of the socket / use of extension cable near the window
The power adapter jack is plugged into the safety box, as shown above. The cable length of the power adapter is 1.5m. Verify that you have your power socket at the right distance from the window. If the socket is not near the window, you can use your own extension socket or buy an extension cable to the adapter in our eshop. An extension cable is available in lengths of 1.8m, 3m and 5m.
Adapter is equipped with plug type C. Please note you might need specific conversion for your country (see socket/plug type list: https://www.worldstandards.eu/electricity/plugs-and-sockets/)
Limitations
The holding force SMARWI keeps the window closed is limited by design and prevents device damage. In the event of strong wind, etc., the ventilation may spontaneously open. The same can occur in the case of a power failure. Please take into account this eventuality in case of prolonged absence or bad weather based on specific location of your window. The manufacturer is not responsible for any damage caused by open ventilation.
For detailed instructions, see the Installation Guide